SWCDP is excited to provide  an opportunity
for social & exercise activities for our pups
while SWCDP is closed for our turf renovation project
Bar K offers large & small outdoor dog parks and an indoor play area – outside is artificial turf so open every day – plus bar and small restaurant, too.
https://barkdogbar.com/locations/st-louis-mo/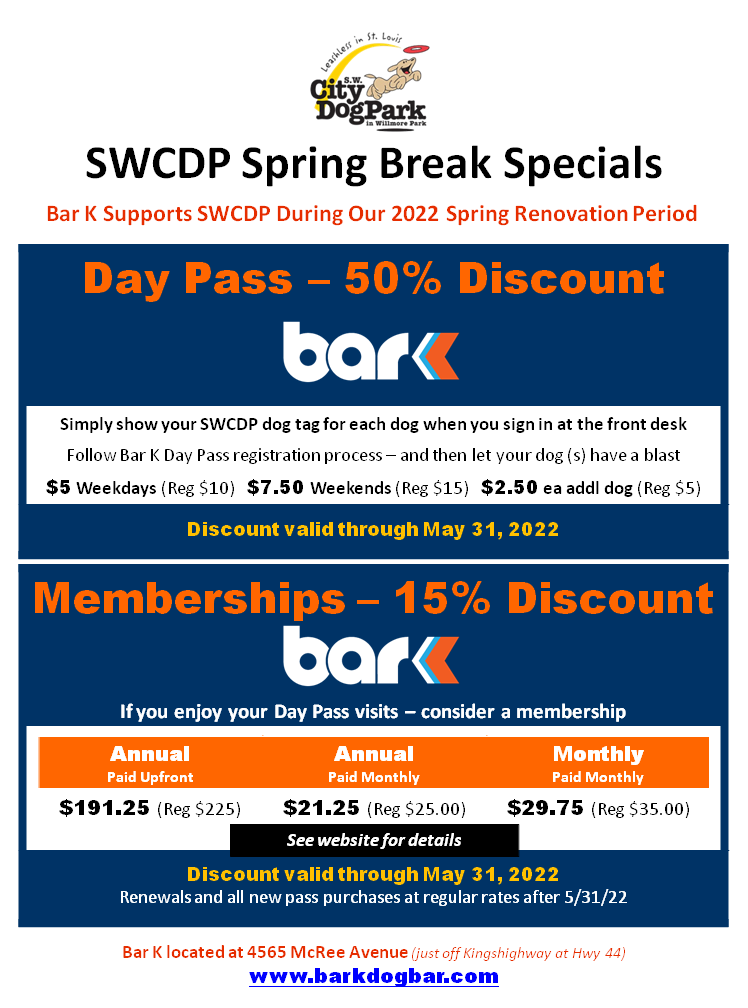 Sound good?
Best way to get started is to get a Day Pass (50% off) so you can have the Bar K experience.
Bar K will require your dog's vaccine record. You may purchase a Day Pass as often as you like thru May 31. Or, you can choose to purchase a membership at special rates (15% off) thru May 31. Either way, you must show your SWCDP dog tag to qualify for discount. Just stop by the front desk and the staff will take care of you.
And if that isn't enough great news . . . there's more. Check out Bar K events calendar – lots going on. Bar K also serves beer, wine, cocktails – and a food menu, too, which you can enjoy on the patio with your dog.
Plus SWCDP has organized several play dates for our members.
SWCDP MEET UPS

Want to play with some of your SWCDP friends?
This is a casual get together – no SWCDP management – just friends visiting Bar K at the same time. You can certainly visit Bar K any time you wish or put together your own Meet Up times with friends you have already made – or – stop by during one of the scheduled Meet Ups below and maybe you will see old SWCDP friends or make new ones,
MONDAY MORNING MEET UPS



10:00am to Noon
April 18, April 25, May 2, May 9, May 16, May 23, May 30
FRIDAY AFTERNOON MEET UPS
4:00pm to 6:00pm
April 22, April 29, May 6, May 13, May 20, May 27
Special rates begin April 18