Are you ready for winter? It is coming . . .
SWCDP is in the process of winterizing our dog park. Please read on so that you will understand how the changes will affect your dog park visits and how you can help.
WATER
Effective November 10 – irrigation system and Water Stations 2, 3, 4 are closed until Spring 2021.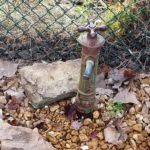 Main Playground
Use Water Station 1 (located mid-section along fence line)
Alternate Playground
Use Water Station 5 (located in Dog Wash area)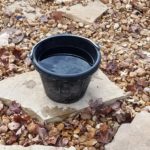 Use black buckets for dog's drinking water. As always, refresh buckets frequently because they get spit, dirt, and unfortunately – occasionally pee in or on them. Fresh drinking water is important for our canines even during the winter months. Our 4-Leggeds are so engaged in play – they need their humans to keep them properly hydrated. The summer white buckets will eventually be stored for the winter as they do not hold up well during freezing temps. The smaller metal bowls are available year round.
Freezing Temps – Alert
Although Water Stations 1 and 5 are freeze proof – when temps stay below freezing for extended periods – we have occasionally had to bring jugs of water for drinking buckets. Just be on the alert during those times – members are responsible for providing water jugs for their pups.
Pools will be put away until Spring.
Hoses will be put away until Spring. One hose stay in use in the Dog Wash – one additional hose will be accessible for maintenance purposes only.
LIGHTS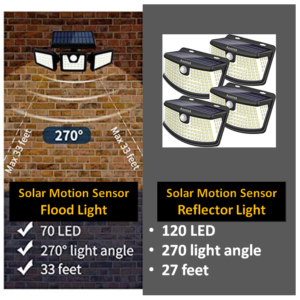 St Louis City Parks Department is looking into the possibility of providing SWCDP with another City light post for the back of the Main playground. As you all know – it is very dark back there at night.
In the meantime – because we do not know when/if it will be approved or when it will be installed – we are working on an immediate solution.
Within the next 2-3 weeks – we will have a grouping of two different solar LED motion detector light systems for this area. FLOOD LIGHTS: Each light (we will have two sets) is actually 3 lights that can be moved directionally and has a 33′ range. Light comes on / off based on motion. REFLECTOR LIGHTS: We have 4 lights and they will be set for dusk-to-dawn so that we have a constant light and they have 27′ range. The combination of these two systems should provide amble light for walking, playing and safety factors. We may also look into a third light feature for inside the winter shelter…still researching.
WINTER SHELTER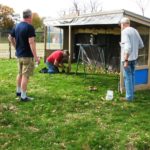 Our shelter is up – thanks to Bob (King), Bill (Cowboy) and Bryan (Casey, Karly) for repairing and installing it again this year. We moved it to the back section of Main instead of the usual mid section because we need to encourage members to hang out on the strongest turf areas. The back third of the Main playground has the best turf right now. SWCDP members love our temporary shelter, a great wind barrier – nice for short breaks from the wintry elements .
MUDDY PAWS – MUDDY SHOES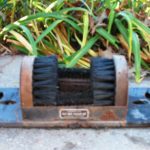 Dog Wash

Dog Wash stays open year round – please be sure to turn off the water after each use so that the hose does not freeze. Hose works great to spray away the gunk on both paws and shoes.
Boot Brush
SWCDP provides a wonderful boot brush – located inside the Dog Wash area – for quick, dry cleaning.
SNOW & ICE PATROL
Volunteers Needed
SWCDP must have some member volunteers lined up for this maintenance need before the snow/ice arrives so that we are not scrambling at the last minute. And – for safety reasons as well. The City does not shovel our ramp, steps, etc – and certainly no areas inside our dog park, either. It is up to SWCDP (our members!) to keep these areas snow and ice free.
Contact us right away if you can help us out. SWCDP will provide a shovel (or bring your own) and paw-safe ice melt. We just need the humans to do the work. Ideally – we'd like to have several people on this task team and then we can share and/or rotate the work, as needed.
Must Do Areas
Front ramp
Front steps
Front gate area
Entry area
Gate areas so gates open/close easily (Main, Alternate, Dog Wash)
Like To Do Areas
CLOSINGS and UPCOMING TURF WORK
FOBS are de-activated during all official closing periods. No one except contractors and/or volunteer workers allowed in dog park during these closures.
MAINTENANCE – Closings

Tuesday – 8:00am to Noon
POOR TURF or SAFETY CONDITIONS – Closings

As needed.
Maintenance means general turf applications/service, grass cutting, outside contractors, special maintenance and repair projects handled by SWCDP volunteers, etc.
Poor Turf means the soil is too wet for foot/paw traffic. Mostly this will apply to periods of heavy or extended rainfall, both during and after. But – it will also include periods after snow or ice. While we stay open for snow days – we often must close for the drying out period after the snow/ice melts (when temps warm up and create mud instead of frozen soil). Mud after heavy snow is one of our most challenging times as it relates to protecting our turf. Please be patient.
Members must check the SWCDP Hotline after such weather conditions to determine the open/close status.
SWCDP HOTLINE
314/567-2012 Hit #2 for status update
TURF WORK – Upcoming, 2020

November 17 – Turf fertilization
Will be applied during Tuesday morning closing. Dog park to re-open at Noon.
December – date to be determined
Aeration and dormant seeding – We will be closed all day – a noticed will be sent to members once the actual date has been booked.
Keep Moving!
Please do your part – Help us protect our new turf by moving around during your visit. Do not stand or sit in one place – change locations at least 3-4 times during an hour visit. Take some of your dog park pals with you…move as a group or solo – but keep moving. Please do not pound our young grass to death.