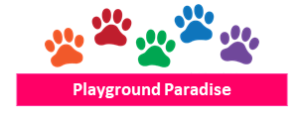 From the youngest of youngsters…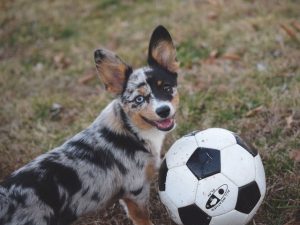 Scout says: "Hi! My name is Scout and I love going to SWCDP! Even though I am still a little puppy I have made tons of doggy friends of all sizes and I think my parents have made some human friends as well. I love running around the park, jumping over the hay bails, and training in the agility section of the park. Some days I play in the main park with all the big dogs but on busier days I stay in the alternative park and get my energy out with dogs of my size. No matter what I always have a good time at the park playing and socializing!"
…To all-time favorite seniors
Seamus motivates us to renew each year
Seamus' humans say: In our house we call the dog park the "DP" because if he hears us utter the words – even whisper them – he's sitting at attention at our feet expecting us to put his leash on him and take him. And he'll follow us around the house until we do.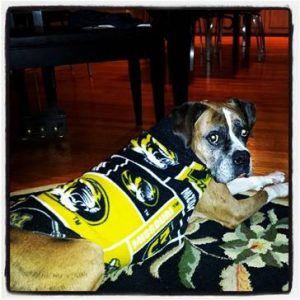 We have a good-sized fenced in yard, but Seamus doesn't run in the back yard like he does when he's around the other dogs. What I like best is seeing him take off like a jack-rabbit when we first arrive and run like crazy. There is just pure joy on the dogs' faces when they are all running and playing together. It's so fun to watch – and the people are really nice, too. We love the way SWCDP has changed over the years. It was nice when it first opened, but it gets so much nicer every year. People really take pride in the park and take care of it. Seamus loves nose-diving into the large pools after running around on a hot day!  The frequent exercise & socialization with younger dogs keeps Seamus limber, happy and healthy. People think Seamus is only a couple years old because of his playful demeanor and how quickly he can still move for a "senior" dog. 
And all our friends in between…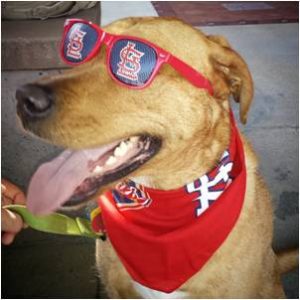 Mac says:
I love the park and go crazy every time we turn into Willmore Park!View Page I love the pools and the tunnel in the agility course; and try to get my humans to take me 3 times a week. My humans say the park is "well run and maintained" and they like that "there is always another dog at the park no matter what time we go". They say I always leave the dog park happy and tired – and THEY love that!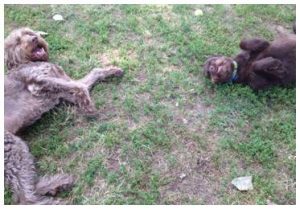 Finn & Rufus' human says: After many years as SWCDP members, the dog park is still the highlight of Rufus' & Finn's daily routine. We renew because our boys get great exercise and socialization; we feel this park has good leadership & vision; all of improvements have been exceptional and the commitment of the volunteers is amazing.
Finn says: I like to chase off leash dogs outside fence; once ran into a tree during a vigorous game of chase – every body who was there made sure I was ok. My brother & I think it's funny to go to the very end of park to do our business so Eric has to walk the length of the park.
Rufus says: I like to steal tennis balls & get home before Stacy notices what I did. Like water stations & playing chase with other dogs; miss the park when closed, but like to roll around in the thick summer grass.
We have been to several different dog parks and proud to say …
We belong to the best in the City!!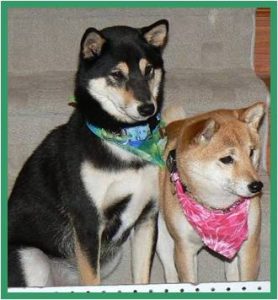 Koji & Sushi's human says: SWCDP has everything you could ask for; tons of space to play and run, several water stations for drinking and swimming, a dog wash, and a small dog area. Koji & Sushi love going to the park! Koji's favorite – the various  pools to play in; Sushi loves – to meet all of the people! After a good hard run in the large park, they both run to the Alternate Dog Park area, wait patiently by the gate, as this is their favorite place to play together.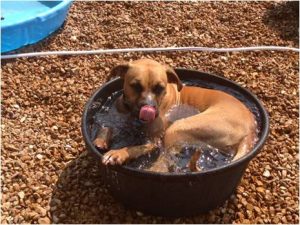 Stella's human says: Stella loves playing, jumping in-out of the pool, wrestling, running & tug of war with all the dogs – the interaction with other dogs is the best. We enjoy watching Stella playing and having fun; and almost enjoy the park as much as she does. We needed a place to socialize our puppy and get her extra energy out…we believe a good dog is a tired dog. The dog park has far exceeded our expectations – membership is well worth every penny!  The grounds are well kept due to responsible pet owners and all wonderful people who keep it going on a daily basis. We our very blessed to have this dog park so close to home in the city. Even though there are days Stella comes home covered in mud, it's worth it!

Stella says: "Why do we need to leave so soon (even after being there 2 hours!) and when can we go back?"
Gibson says: "Ruff, Bark, Ruff – I love the dog park." Gibson's human says: SWCDP has been a godsend. Seriously. We can't imagine our lives without it. 30 minutes at SWCDP equals a 10 mile walk in our opinion. We were so excited to find a dog park close to our house where Gibson could run and make friends.  She never liked to get wet, but now we can't keep her out of the pools. Guess peer pressure works on dogs & humans alike.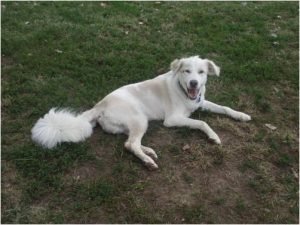 Milo's human says: Milo loves the park and seeing everyone as often as we come – we have been so thankful ever since we learned about SWCDP from another member. I like coming to the park knowing that Milo will have a good time and be worn out by the time we leave. Milo likes the fall/winter season best.  He prefers the shady part of the park in summer.  Milo's first experience with water/pools was at the park. He was very hesitant at first, but quickly learned that it was a wonderful way to cool off and make waves by moving  around. We have also used the Alternate Dog Park several times when the pools were closed.  It is a great area to have when you want to have your dog focused on playing with just a few friends.