First a little background
In 2003-2004, SWCDP founders Missy Krause, Cara Lyles-Baker and Pat Williams, and others, had a dream – they envisioned a green City space where their dogs and dog friends could play and run off leash – all within the safety of a fenced-in area. Why not look to St Louis City Parks for tapping a small patch of green space?
Wouldn't that be awesome?
But there were no Ordinances in place to address City dog parks and very few places where dogs could congregate off-leash; and no dog parks at any of the St Louis City parks. So the hard work of making contacts, cultivating relationships with people who shared their dream, and building the infrastructure and framework for dog park viability in the City of St Louis began.
In those pre-dog park days, most folks had not thought seriously about the benefits of a dog park, the trend had not yet caught on nationally as it has today. An enormous amount of work was put forth on the legal framework; old dog-related laws were evaluated, a replacement law was proposed and finally, Ordinance 66595 was approved on February 7, 2005. In particular, we give a shout out to then Alderman Donna Baringer (Ward 16) who immediately saw the potential and the benefits dog parks would offer area communities. Donna worked tirelessly and reached out to other Alderman promoting the need for City dog parks – and several of them agreed to co-sponsor a new Ordinance. Thanks to Dionne Flowers, Phyllis Young, Joseph Vollmer, Donna Baringer, Terry Kennedy, Frank Williamson, Lewis Reed, and Jennifer Florida for crafting the bill and sound sponsorship of Ordinance 66595. Click link to read the Ordinance

Ordinance 66595 made SWCDP and future dog parks possible

SWCDP Beginnings
With dog park law now on the books – in March of 2005 – our Founders petitioned the St. Louis City Parks, Recreation & Forestry Department about developing the first City dog park. Willmore Park and Francis Park were discussed and by the end of March, Dan Skillman, Parks Commissioner, granted permission for Southwest City Dog Park to develop 1.10 acres in Willmore Park. With two stipulations: 1) Find a neighborhood association as a sponsor and demonstrate commitment from a management team, and, 2) Raise enough capital to fund initial construction and start up costs.


After a brief struggle to find a sponsor, Southampton Neighborhood Association (SNA) stepped up with SNA members unanimously approving SWCDP support. Under the leadership of then SNA President, Attorney Chad Stockel and his SNA staff, our Founders had found the perfect partner and together they began fundraising and organizational development.

Another early task was to petition area residents and businesses, to ensure there were no major objections and to collect signatures of potential dog park users to demonstrate community interest in a dog park. SWCDP also received approval from Alderman Fred Heitert (Ward 12) and St Louis Hills Homeowners Association for the establishment of a dog park in Willmore Park.
Major Fundraising – Start-Up Construction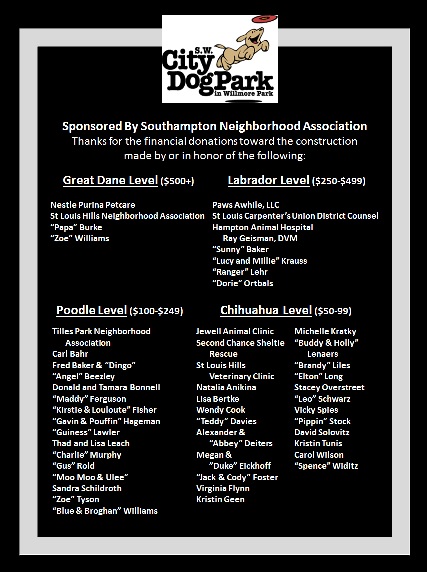 SWCDP set a $25,000 goal to support purchase and installation of fencing, initial landscaping and miscellaneous start-up costs. With a dedicated volunteer crew, they got to work and raised funds in a variety of ways.
Through SNA connections, Nestle Purina Petcare kicked off the fundraiser with a $5,000 cash donation. Our efforts were further enhanced through the support of St Louis Board of Alderman President, James Shrewsbury. Jim sent a letter to area businesses, promoting the benefits of a dog park in their community – and reaching out for general support and donations. In addition to corporate and personal cash requests, SWCDP held a Pet Picture Contest in the Journal, a trivia night and a yard sale. This was a very labor intensive time and most of the fundraising goal was met. Enough to get the construction phase and grand opening on the books.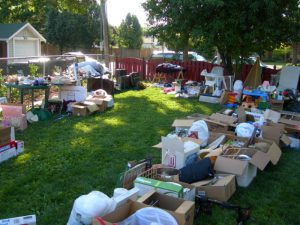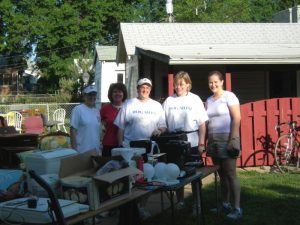 On Aug. 1, 2006 a construction permit was issued and by August 20 construction was underway. This was such an enormous project that a second phase of fence installation was required after the dog park opened and the follow-up install was finalized in March 2008.  The additional fencing created our Alternate Dog Park and the size of the main playground was increased slightly to bring SWCDP to our current 1.10 acres.
The St Louis City Parks Division installed a water line and provided one water faucet during initial construction phase and in December 2006 installed four street lights along the dog park fence line and one inside our Alternate Dog Park.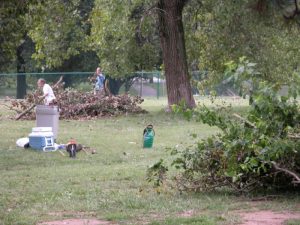 The arrangement between Southwest City Dog Park and the City of St Louis Parks, Recreation & Forestry Department was – and is – that SWCDP is issued an annual revocable Seasonal Permit every May. The renewal is based on SWCDP performance and adherence to guidelines outlined in Ordinance 66595. Furthermore, SWCDP agrees to managing and financing all aspects of dog park operations in exchange for no rental fee. The City pays for our water usage and the street lights. We are responsible for maintaining the turf, fence, amenities, all repairs and improvements as well as managing the membership process, all administrative tasks. SWCDP must also maintain a liability insurance policy covering the City of St Louis as part of our agreement. SWCDP does not receive funds from City of St Louis for dog park operations.

Grand Opening
Southwest City Dog Park Officially Opens On Sept. 23, 2006
SWCDP opened its gates with great fanfare. The community was so excited and the turn-out was fantastic. So many smiling faces and wagging tails – the opening Day included visits from City Officials and Dignitaries and eager new members registering for membership. Everyone enjoyed the Fall day, the new playground, and special activities including raffles, prizes, and free treats provided by Tropical Moose Ice Shavings.
SWCDP Growth and Challenges
Click Here to Check Out Capital Improvements
We are fortunate to have so much green space in the City – our members really enjoy having plenty of room to romp and socialize. Our space is mostly flat but on a slight slope. The area, long ago, used to be a swamp. We have no sewer system so managing turf and water is a constant challenge. Over the years, SWCDP has invested many thousands of dog park funds ($50,000+) to improve the property. This is in addition to the initial start-up expenditures. We make steady progress with SWCDP management – and its members – always looking for improvement opportunities.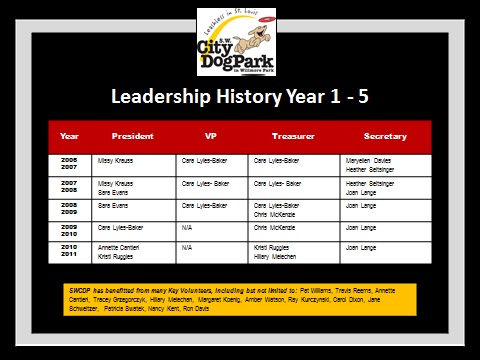 During years 1 thru 5 each challenge was new and unique, having no previous frame of reference. Pioneering through administrative and operational issues as they popped up – the most challenging of all related to water issues. Volunteer crews were endlessly busy during warm weather having to keep the turf watered by using a string of garden hoses and oscillating sprinklers – which had to be moved continuously. Under leadership of Cara and Annette, the SWCDP Board decided in the fall of 2009 to install a sprinkler system. Our first major capital improvement proved to be incredibly beneficial to turf management – and a relief to the volunteer crews. The system was installed by April 2010.
Having to hand-carry water buckets to distribute doggie drinking water around our 1.10 acres was another laborious volunteer responsibility. Annette, with the help of Don, championed the installation of multiple water stations. SWCDP Board approved this capital improvement project in 2011. This was quite expensive and coming off the recent sprinkler system, the water station project happened in two phases: system purchase in 2011, system installation in 2012.
Now, with all the basics in place, SWCDP's new President, Judi, brought a vision for a five year plan of massive upgrades, improvements and refinements. With Joan's mastery on SWCDP's administrative side and bringing valuable historic data and experiences, our dog park benefitted from an exhilarating explosion of activity.
Well, folks, we are still writing the story – oh, so much to tell. Please check back later to find out what happens – beginning with 2012 to today. We are simultaneously writing the Capital Improvements section, also a work-in-progress, but you can get an idea of the scope of big dog park projects from 2012 to today.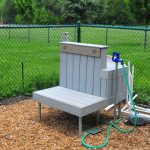 ADA Compliant
In 2013, SWCDP became ADA compliant.  Area to allow for an improved area to hold events.
10 Year Milestone
This was quite the extravaganza event – see the photos and outline of the many activities and booths for our Fall 2016 Celebration.
 10 Yr Anniversary
The Future
So much for the first 10 years of SouthWest City Dog Park.  We hope the next 10 will be as positive and fun filled as the last 10.