SWCDP is excited to introduce upcoming capital improvements and new amenities for Southwest City Dog Park. The following plan is at the conceptual level as we continue to look into material choices, layout options, and cost factors. Our 2021 plan is a result of several years discussion as well as constructive input in March 2020 from SWCDP members who have a long history of doing the volunteer work for our dog park. While we are proud of 14+ years of dog park improvements & problems solved – see reference at end of blog – everyone agrees it is time to finally resolve our long turf battle. This blog will outline our shift from treating symptoms to an action plan with targeted solutions.
This is a great time for members to let us know first impression, via our survey. We want SWCDP member input on this "high level" view – but input will only be helpful if you read this blog post in full – so that you contribute feedback based on facts and current information.
Look for survey link at the end of the blog
Members should also mark calendars now for our annual GMM. Due to the pandemic we did not have our usual  General Membership Meeting last year – so this meeting is very important. We will provide detailed financial report as well as a deeper discussion about the capital improvements, special fund raising needs, turf management schedule, and other changes as it relates to your membership – and more. MAY 13, 6:00pm, in Alternate Dog Park.
We are all disappointed about how quickly we killed off the new grass grown in Fall 2020 – but this setback is the PERFECT EXAMPLE of what we have been saying for the past several years. If we do not shift the traffic flow in a major way and at the same time continue to upgrade our turf management – including finding ways to rest grass areas as needed – we will always have mud and long closed periods for renovation. As we do every year – we repeatedly asked members to move around and not stay in one place as group – but it is very difficult to change behavior. Let's face it – members enjoy hanging out with dog park pals.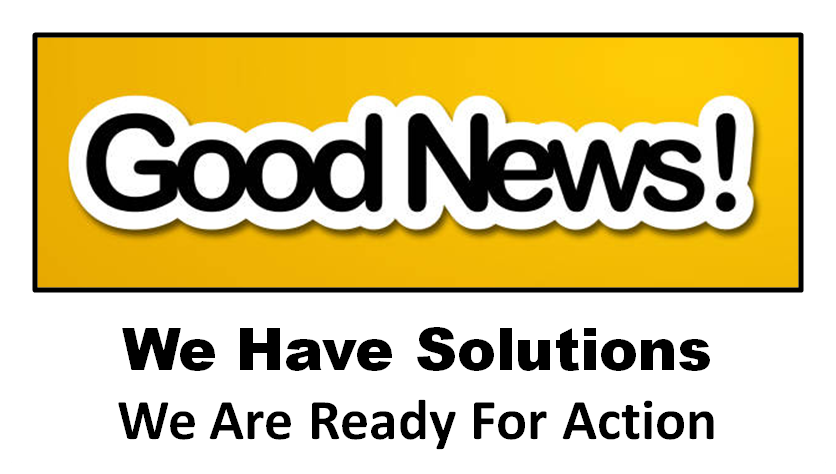 Essentially, our Gangway and Main playground surfaces will be mixed materials instead of all grass. Materials under consideration: Grass (fescue/bermuda/rye mix), Artificial Turf (K-9 Grass), Concrete, De-Composite Granite, Double-Ground Wood Chips, Other. The Main playground will remain an open space but going forward will be considered four distinct play areas – although Agility course will still be fenced & gated for supervised exercises.
Here is our first sketch; a revision with a bit more detail will be available by our re-opening date, June 1. NOTE: Any area using artificial turf will be bordered with fund raising bricks to protect the edges from riding mowers, weed whips, etc.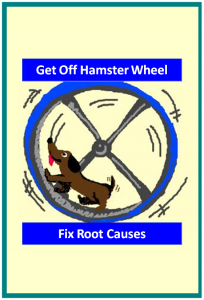 TARGETED SOLUTIONS
Let's Get Going!
We are in early phase of talking with various contractors, other dog parks, and others and hope by mid-summer to begin prioritizing projects. Once we have zeroed in on products and vendors we can get a better cost projection and begin aggressive fund raising. We'd like to see at least some minor work begin by the Fall with a big bump in improvement projects by Spring 2022 – while we are closed for Spring renovation. Once we get on the other side of HUB and Pathways – we can finally begin decreasing the time required for constantly regrowing the grass. Our transition period is a challenge. We have had to make tweaks and changes along the way – but we are definitely on track with our goals and will stay the course. Our future is bright. Just imagine what SWCDP will be 24 months from now…and beyond.
Turf Section 1
Front Section to include plenty of grassy play areas and a non-grass sitting area, a permanent storage facility and more shade trees (ETA 2022).
Gangway
Currently a mix of grass, gravel, stones – to be replaced with one solid surface (product tbd). The corner fence will be slightly altered so that arriving dogs can get into the Main play area a little quicker.
Front Sitting Area and Pathway 1
Whatever material is chosen for the Gangway will also wrap around the fence to create space to support arriving/departing traffic and a small sitting/standing area as well. Some members whose dogs need the robust action in Main have personal needs which require them to stay at the front of the dog park. We must provide suitable space for such needs while also sustaining the unavoidable high traffic. This same ground material will be used to create a wide pathway connecting members to the new HUB area. Once this pathway is installed – we will have effectively created Turf Section 1 and part of Turf Section 2.
Permanent Storage Unit
In April 2021, a long time need was finally fulfilled. SWCDP purchased a used shipping container (20ft). Installation approved by City Parks Dept. Made in 2018, it has had multiple uses but is in excellent condition and very clean and sturdy. The unit has a security door which will eliminate the theft & vandalism problems we have been having and best of all . . . we will eliminate monthly rental fees for off-site storage and finally not have items also scattered at various member's homes. The unit is located in the RDP side in a corner seldom used for play. This is best location so not to block view of dog park or members ability to keep an eye on their pups.
Turf Section 2
Mid Section to be surrounded by grassy play areas but connected by two non-grass pathways. The Mid section includes the HUB, climbing mazes and dog activities, and drinking fountain – all on artificial turf – plus a covered pavilion on concrete pad.
The HUB – SWCDP Gathering Space
How many times have you been to a party or event – and no matter how large or how grand the venue is – everyone is packed into the kitchen or coveted special place? Well…that's our dog park, too. And, that will be our HUB. A large area on non-grass, low maintenance surface – with several benches, picnic tables and several multi-level decks (the Climbing Maze structure) and covered Pavilion. The layout and size will be large enough to accommodate those who want to hang together as well as those who prefer to be "close by" but want their own space. Adequate space is important not only for heavy use periods but also – should we ever encounter another pandemic or other safety issue – we will be glad to have a gathering space large enough for folks to not be on top of one another.
Climbing Maze
Some of you have fond memories of our straw maze – humans and canines loved it. Now, picture this: A permanent structure (likely decking – possibly bamboo materials) that can be easily hosed down (no more pee-soaked straw). Multi-levels (2-3) – each connected by hallways or tunnels. Some will have flat tops – others will have special features such as things to jump thru, climb on and under, chase around, go up and down…and more. The first level will be bench height (18″) for additional human seating.  Designed for safety, durability and entertaining and exercising your pooch.
Pavilion
We see this in 3 phases: Pour concrete base in 2021. Build the pavilion in 2022. Add clear, snap-in walls (likely plexiglass) for winterization purposes (2023). Pavilion will accommodate seating but be large enough for dogs to join their humans and room to move around. A great place to get out of the sun in summer and out of the bitter cold wind in the winter.
Drinking Fountain
We already have the potable water line in place at Water Station 2. The existing station is rusted and not used very often – once we find funding for it – we will replace the old with a new stainless steel version. A 3 level drinking fountain. Regular level, ADA level, Dog level.
Turf Section 3
Back Section will remain primarily grass and offers plenty of open space for ball, Frisbee and running. The Pool Pad and Tether Ball court will eventually also be surrounded by non-grass surface like the HUB area (artificial turf).
Open Spaces and Pathway 2
This open space area has potential for expansion if/when we get approval to extend back fence even more. As is, it is a good size open play area. Run, run, run. Using same material as Pathway 1, Pathway 2 will connect the HUB to the Pool Pad area. The City will plant 2 more Maple trees in May 2021.
Pools
Pool pad will remain as is. But even with numerous improvements to this area – we still have mud issues as dogs carry water in their coats or people are careless with the hose so we have mud around the perimeter. Eventually, we will add artificial turf around the edges – see sketch. The City will plant 3 River Birch trees outside our fence to help absorb our pool run-off water in May 2021.
Tether Ball
We selected an area near Agility Course that is out of the way and seldom used. On grass for now – when this area gets artificial turf – tether ball will also be on same turf material. FYI, we recommend this be a supervised sport. Our dogs who enjoy tether ball have demolished the human tether ball right away (4 balls gone – Poof!) – so we are looking for alternative items to attach to the pole. TBD.
Turf Section 4
Agility Section will continue to be fenced and have an entry gate. The course will remain a grassy area until artificial turf funding can be attained. And, it will be the last area to receive new fencing so that we have time to determine if the City will change the Ordinance and allow us to extend the dog park beyond the 16.50 feet already approved. Once this is determined we will enlarge agility course and reconfigure to an L-shape. This reconfiguration will allow us to also enlarge the open ball playing/running area, too. A longer-term project.
Agility Course
Some of our equipment is again in need of repair and/or replacement. We will work on it to have most back in play by June. Until we reconfigure the space with expansion, we will be limited with adding the much discussed new agility equipment due to lack of space. Members can again enjoy multiple jumps, tunnel, pause table, two weave pole stations, a tire jump, waddle board and learning ladder.
Important Pathway Benefits
We want to emphasize the dramatic impact the pathways will have for dog park maintenance and member enjoyment.
Having ability to control specific areas for rest or repair is paramount to growing sturdy turf. The pathways give us tremendous flexibility. Any section can be closed but members will still have access to HUB, Pools, Tether Ball, Agility. Pups can keep playing while sections are taking a break.
This means we may be able to shorten prolonged wet season closures (if closing extends more than 3-4 days) – and eventually – after our new turf begins to mature – we can finally begin shortening our renovation periods, too. More on this discussed at GMM.
Funding Targeted Solutions
Most of improvements will be funded through donations, grants, and various fund raising activities – and hopefully, some support from St Louis City. More on this at our GMM in May.
Our membership fees must support ongoing expenses for administrative costs: computer, website, access control maintenance and upgrade, membership processing, insurance, events, etc – and – operational costs: general grounds maintenance, repairs, replacements, turf management. For example, we must replace the green perimeter fence and add a couple service gates – this will likely happen in 3 phases (2021, 2022, 2023). Our new storage unit was funded by SWCDP operational funds.
While the above is a work-in-progress
Let's define a few facts that have been questioned recently
"We want more space" – Expand towards the ball fields
In 2020 the City approved a 16.50 ft expansion – maximum based on City Ordinance 66595. Even if the law is amended one day – we have those discussions in early exploration phase – the City will never give up ball field space. St Louis City very proud of their ball fields. In very recent years, in fact, the City added a new soccer field which butts up to our dog park.
We will stay on top of the ordinance status. SWCDP will need to know potential boundary changes before the third phase of SWCDP fence replacement. Even if expansion is approved – the only direction that will be considered is off the back fence in Main.
The likely reason new members feel the ball fields are a wasted, non-used space is because the fields have been empty since Spring 2020. The pandemic changed everything. Children have been home schooled and group activities, including team sports, have been practically non-existent. We expect excited kids, coaches and proud parents to return to their normal activity as soon as possible, hopefully in 2021.
"It's just a dog park" – We don't care about a dirt surface
Doing nothing is not an option. Period. The dog park grounds are City property. St Louis City loans SWCDP the use of this space – for free – with the understanding that in exchange for such usage – SWCDP will properly maintain and improve such grounds. We are not striving for perfection or a golf course finish – but if the turf is healthy and durable – it will also look nice. Everybody wins. Yeah, we know, our pups are happy rolling around in a stinky mud puddle – so they don't get a vote on this.
Renewable City Permit
The City renews SWCDP usage permit on annual basis. Factors considered: confidence in SWCDP leadership (dog park direction), SWCDP management (successful processing of memberships, low incidence rates), SWCDP grounds upkeep (maintenance, repairs, property improvements), and SWCDP self-reliance (original agreement, SWCDP will handle all day-to-day administration and operations). Without a current permit and required insurance policy – there would be no SWCDP.
"We demand a say" – We want immediate gratification for our membership fees
SWCDP always seeks member input (hence the survey at end of blog).
We began our transitional phase over a year ago. Big changes take time – and money. And, with most changes….comes set backs (tweak turf management schedule), surprises (Covd-19 ate a year – no fund raising during the pandemic), and some resistance (not leaving comfort zone – don't like sacrifice/pain).
Sadly, members who are impatient with the transition or do not agree with the general direction – may be happier at another dog park. Think about this before you renew for 2022 membership. While we will look to our members for suggestions and ideas for continuous improvement opportunities – we are not turning back. The improvements presented in this blog will take 2-3 years for most of the completion – assuming we have successful fundraising. Then – follow up work and inevitable maintenance and repair beyond that.
Please stay with us. Support us. Imagine an awesome future together.

Wanna guess which year this photo of
SWCDP Main playground was taken?
It could be any year — because it is every year!
We grow grass. We love grass. We kill grass. Repeat.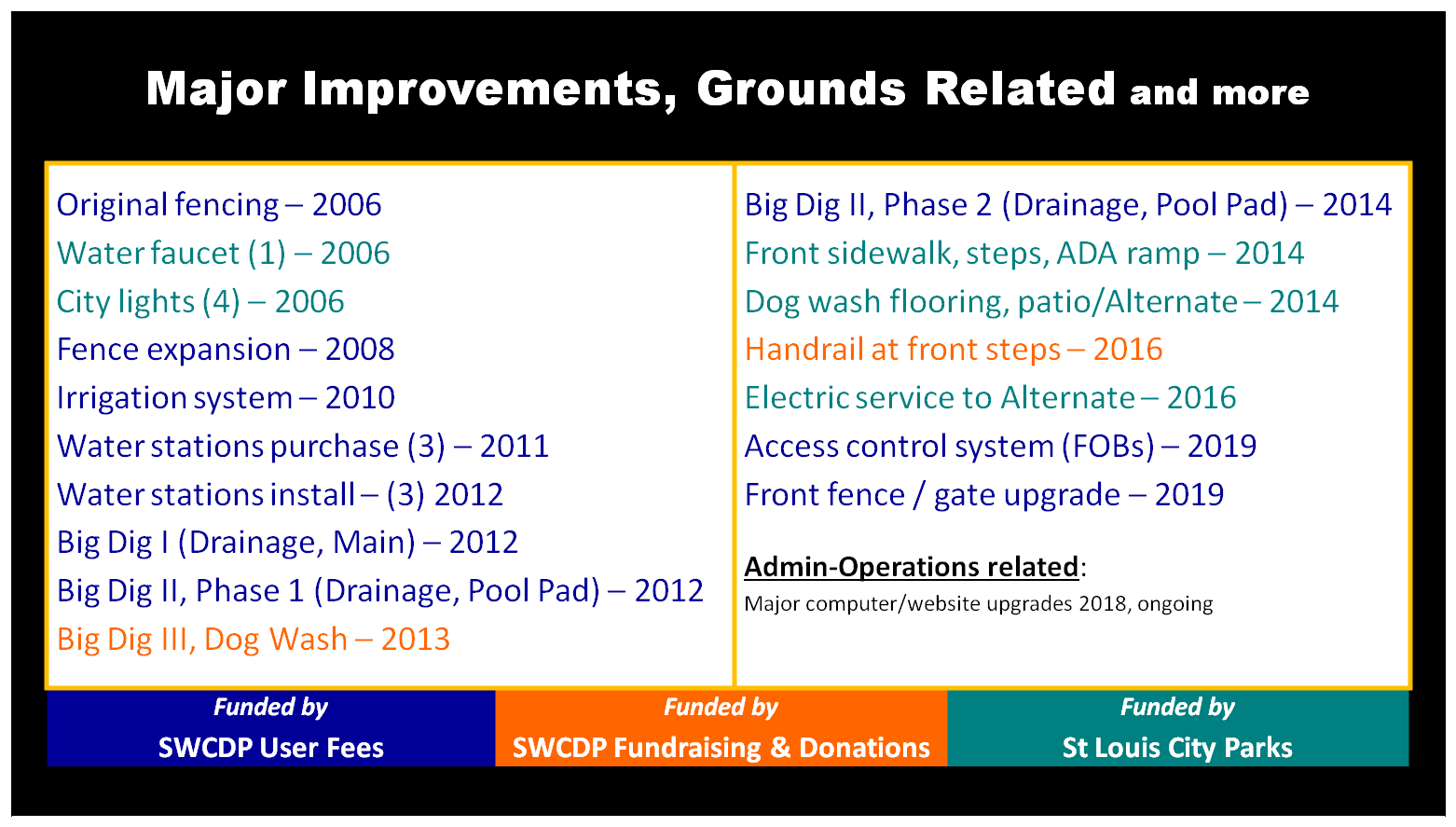 We invite you to learn more about the above dog park improvements by visiting our web page for a little more history and photo essays on some of our key projects.  Capital Improvements Page
Above info discussed in more detail at SWCDP GMM
General Membership Meeting – May 13 at 6:00pm
SURVEY
:
While the blog post is for everyone, general public included – only current members are invited to share their opinions on upcoming SWCDP improvements. You must sign in using the primary member email (the one used for your membership registration). Only one survey response per household. Anonymous responses will not be considered.
Please tell us what you think.
Survey will close April 27 at midnight