SWCDP Fall Closing
Sunday, September 20
Fall Turf Renovation is here. SWCDP will close at 10:00pm, Sunday, September 20. Member FOBs will be de-activated until our re-opening date. Still on track for a projected 4 week closing at best and 5 weeks if we have unexpected issues to resolve (as in terrible weather!) Watch for future emails with updates and re-opening date.
Monday . . . . . . Forestry to grind out tree stump
Tuesday . . . . . . Hilltop to cut and trim turf
Tuesday . . . . . . TruGreen to aerate and seed
Sunday weather forecast is gorgeous – hope you can get your 4-Legged to the dog park for a final play time before we get to work on our turf. Fall is coming – and – pools will be put away for the season after Sunday.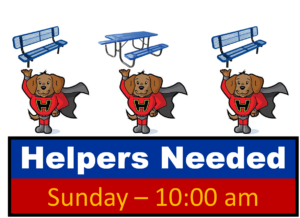 HELP – a plea for assistance on Sunday morning. We must get all park furniture moved to the non-grass areas. Our tables and benches are heavy – we usually look for 2-4 people per item – and the more volunteers we have – the faster we can get done.
To members who have the physical capacity to lift and carry – please come to dog park Sunday morning – help us move furniture at 10:00am. Thanks!