We are making progress . . .
Thanks to all of our members who are waiting patiently for the SWCDP Fall re-opening.  We are getting close – and should have a definite date announcement very soon. We are tentatively looking at October 28. Although SWCDP has been closed for play purposes – some of us have remained very busy with both on-site and behind the scenes improvement work. Plenty of dog park news coming in the upcoming months – but today we are focused on the turf – and getting back to some serious play time with our friends!

St Louis City Forestry really came through for us. With short notice – they came as requested on 9/21/20 to grind out the stump in Main. Doing the work the day after we closed for turf renovation was very timely and helped SWCDP stay on schedule. G
rinding out the stump and adding additional dirt prepared the area for the aeration and seed scheduled for the following day.

TruGreen aerated and planted a tall Fescue (Falcon IV) seed on September 22. TruGreen selected Falcon IV for SWCDP because of it's high quality (99.63% pure seed) and its high germination success (90%). Also, Falcon IV has a fast germination period — 10 days or less. Sure enough….we started seeing tiny sprouts of grass within that time frame. Simply amazing – and impressive – how quickly the seed germinated!
We did a weed and feed on September 8 – which gave us a jump start on our war against weeds. And, we have an

organic fertilizer application scheduled for October 20

. These two applications play a big part in improving our soil and reducing weeds. Reduction of weeds has been dramatic….we have plenty of new grass areas without weeds – but – we do still have some. Weed reduction will be an ongoing effort – and necessary, because left unchecked – the weeds ALWAYS snuff out the grass and die off with the first cold weather….giving us the dreaded mud.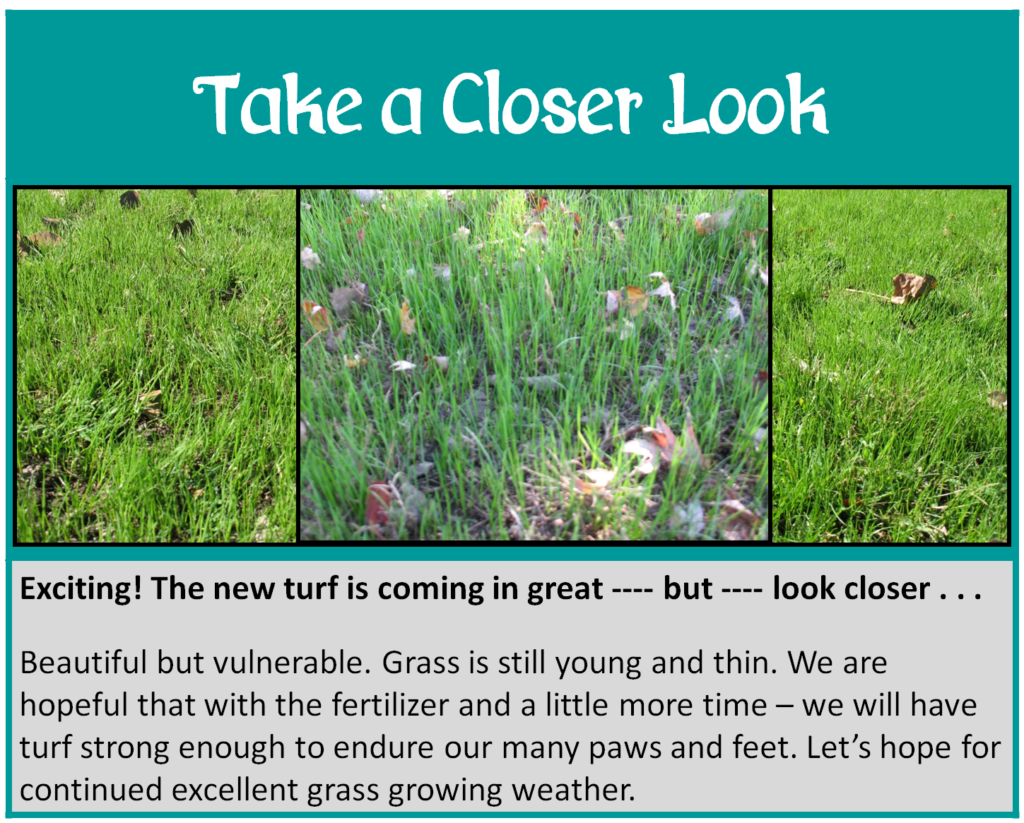 Why is SWCDP not open yet?
Turf looks green & ready as we look at it from outside the fence!
Well ….. It's true we are excited about the progress – but in addition to aforementioned tender grass status – we have several areas that are struggling. We do not expect to correct all the issues before we re-open but we are working on some of the problems with hopeful resolution. Take a look at a sampling of some of our "hot spots".
Please watch for upcoming emails as we continue to keep our members abreast of dog park happenings – and our much anticipated Fall Re-opening date.
SWCDP goal is

t

entatively
Wednesday, October 28 – regular hours 6:00am to 10:00pm