Have you seen the joke circulating – the dog says to his human, "now you know why I eat the furniture!"
We are all going stir crazy and our 4-Leggeds are asking "Where is my dog park?" Coming soon, we hope.
SWCDP Season Opening:
Tentative target date remains June 1 – but – we will make a final determination based on the Covid-19 situation and guidelines set by appropriate authorities.
SWCDP Membership Registration:
Membership notifications for returning members and new members are being sent in email batches several days apart so not to put an undue strain on our registration team. Please do not wait until the last minute to renew your membership.
We are working hard to bring our dog park community back together – and to be better than ever. We hope you will be with us for another great season. 


What's going on?
PART TWO, The Details
We are happy to report that the grass seeds have germinated and the young grass is sprouting throughout the dog park. Still at a delicate stage – but looking good!
As Promised:  Here is the follow up to the SWCDP Turf Management Program introduction and subsequent membership calendar changes. For easier reading or reference – we organized the info by using a Q & A format – so you can read it all or simply scroll down to find the information of interest to you.
Includes member's recent questions, questions and issues that have popped up over the years, and general info regarding our new Turf Management Program, info we expect some of you may like to know.
The prospect of what is to come in terms of dog park improvements is exciting.
You may wonder "Why now"? Our response is "if not now, when"? For 13+ years, except for a tweak here and there, grounds have been cared for in mostly the same way. Once per year – seed, lime, starter fertilizer, water and cut as needed, throw straw over muddy areas the rest of the year. We do not have trouble growing grass – we have trouble keeping grass. We cannot keep doing the same thing and expect different results. And talking about it is not getting the job done. Some of what is in motion now began before Covid-19, so we will make adjustments if/when needed.
But, the changes must directly address each variable that contributes to the turf deterioration – even if we have to do things in stages. Our solution (s) must be more than just throwing out grass seed and extra fertilizer. We have identified multiple detrimental factors – some are constant and will not go away – some are ongoing but are treatable. The problems are challenging and the solutions are complex on some levels and relatively easy fixes on other levels. We will begin to make direct corrections starting this year.
If you wish to refer to either of the recent "big info" announcements, click on the  corresponding links below.
Calendar-Fees-Events  
Given this upcoming season will cover a 15 ½ month period – what are the membership fees for the 2020-2021 season? The new season calendar is confusing – are you saying SWCDP will close again in September?
There will be no fee increase; you will pay same fee as last year. This is our offering to compensate for the transitional period and any unexpected issues that may require minor adjustments.
City: $52
Non-City: $67
SNA Members: $42
*Above is the base fee. $10 fee for each additional dog living at same household.
Remember – if you are a member renewing your membership – you will use the FOB assigned to you the previous season. FOBs are intended for use during the lifetime of your membership. A $25 replacement fee for each new FOB requested.
New Way of Thinking
Going forward, SWCDP Season ends each year the day after Labor Day. New Season opens mid-November, depending on turf strength….just in time for a new version of our Kick-Off event which may combine the celebration of the dog park opening and the beginning of the holiday season.
The upcoming season begins our transitioning path.  It's impossible to shift to a Fall re-seeding until we change our membership calendar and primary renovation closing period. The only other way to get there would be to stay open this Fall, skip the usual Spring seeding, and then start anew in Fall 2021. That approach translates into a Spring-Summer 2020 of complete dirt (let's hear – mud!) because nothing was done. And it pushes us out another year before actually doing anything new and pro-active. We just have to push through the pain and get started this Fall and then make whatever adjustments are necessary to stabilize our new turf care program, as needed.
Members say: We think Fall is the best time of year; We think Spring is the best time of year.
We have members who love Spring-Summer and members who love the Fall-Winter. And, neither likes being closed during their fav time of year – so no matter when we close, we will never make everyone happy. That is, until the day when we can dramatically shorten, if not eliminate, the turf renovation closing. Let's work together towards that goal.
Will we have a season Kick Off event as usual? How will the changes impact future annual events and work crews?
This year, given the pandemic and uncertainty about the "real" clearance date – we have opted not to hold any large crowd event in June-July. Future events will be determined further into the year once we have a better understanding of safety factors and guidelines from appropriate entities. We are looking at this now and will keep our members informed as events are rescheduled. It's a work-in-progress. We are committed to having events and tentatively hopeful for our first event to be in late summer. Stay tuned.
***************************************************************************************************************************
All About the Turf
It's just a dog park – why do we spend so much effort on the turf and related things? Why doesn't the Parks Department take care of the turf like they do for the rest of Willmore Park?
First, the things we must do:
St Louis City Parks Department allows SWCDP to use a designated portion of Willmore Park, City property, as a community service. The St Louis City Ordinance 66595 requires, among other things:  "… repair and seeding of bare areas and filling of holes caused by the users, general maintenance, including turf maintenance and weed control, and fence and gate maintenance…" This means we have free use of land, water, electricity, trash pick-up services in exchange for SWCDP paying for and managing everything else – all operational, maintenance, administrative, and improvements.
SWCDP's St Louis City revocable permit is reviewed annually and renewed based on our performance and compliance with Ordinance 66595.
Next, the optional things we think make our dog park special:
We strive to be good citizens and always go the extra mile to take care of our park. We know the City views SWCDP as a special amenity to the City Parks system and we want to sustain and surpass expectations.
Our 4-Leggeds love their dog park and could care less about mud or holes or moles or bugs or even a dog scrabble now and then. Our 2-Leggeds, however, raise the bar a bit – turns out, the humans not so crazy for the mud, holes, or nasty pee soaked straw. And, since our 4-Leggeds rely on their humans to register their membership and bring them to the dog park – it is important to address areas for continuous improvement. Everything – ultimately – is for the good of our 4-Leggeds. And, the pups have whispered in our ear "Please, keep the humans happy!"
Dog Park Trees and Flowers – It's more work for our volunteers! Why care?
As part of SWCDP's give back attitude – we want a nice "face" to the community. We encourage SWCDP members to take pride in their dog park and help us ensure that the City will continue to value SWCDP as one of their park's key amenities. Trees and flowers are one way. Back in the early days (2006-2009) we had a Beautification Committee who handled all the garden and tree trimming work. Since then we have increased and enlarged the gardens, we now have six – and the City has given us a few more trees, too. All still maintained by SWCDP volunteers. These efforts are also part of creating an attractive park for our members to enjoy.
Health status of the trees inside the dog park
SWCDP takes responsibility to feed the trees inside our fence line every year, usually between March-May. We plan to have the St Louis City Forestry Department inspect all of our trees to provide a status report. We are especially concerned about the large Cottonwood trees and where they are in their life cycle; large limbs have been breaking off annually creating a potential safety hazard. The scheduling of this inspection has been delayed due to the park closing (Covid-19) but we hope to have this done in 2020.
Why don't we just close the Main playground, half at a time, to grow grass so we do not have to close the dog park?
At last season's closing we had over 900 canine members within almost 500 households. You know how crowded the playground can get even though they don't all show up at the same time. Just imagine that same activity concentrated in HALF the space; then double the time frame. If it takes 10 weeks to grow sturdy turf – we now need 20 weeks in order to do both sides. And, how quickly will the new turf be destroyed with so many dogs forced into that "half" space? Not good.
SWCDP announced a turf plan in May 2019 – what happened to it?  
We introduced a similar plan in Spring 2019 but several things developed simultaneously so we opted to delay all decisions for another year. We realized that by only addressing turf improvements (seed, fertilizer, etc) and not addressing all the detrimental factors causing our problems – we were setting ourselves up for disappointment. More time was needed for a comprehensive approach – tied into a Five Year Plan.
Also, by delaying until 2020, we were able to give SWCDP members plenty of notice about upcoming changes – before they renewed their membership for 2020-2021 Season. No surprises. If we had gone ahead with the 2019 plan, most members would have already paid for their season membership before learning of the changes. We did not think that fair.
Who will do the turf work; how did SWCDP select the contractor?
We decided to stay with Hilltop Landscape because we have used them continuously since we opened the dog park. Change is good – in many cases. But, we made the decision that changing our approach rather than changing our contractor was the best way to go. Hilltop, while they have a few shortcomings, is reliable and always ready to do the work – and, on more than one occasion have bailed us out of a jam. We spoke with other contractors, but ultimately, other companies seemed uneasy about tackling dog park issues. Some of the advice that we consistently heard from several turf professionals has been incorporated into our Turf Management Program. An Important FYI: Until 2020, Hilltop was hired only do a spring seeding project, haul away the pee soaked straw, and grass cutting. So, we can only evaluate their work based on the spring results. We are always happy in June. We know they are flexible, available, reasonable in price, and they know first-hand where our issues are. Only time will tell how they do with our new program.
How will the new Turf Management Program differ from previous turf care?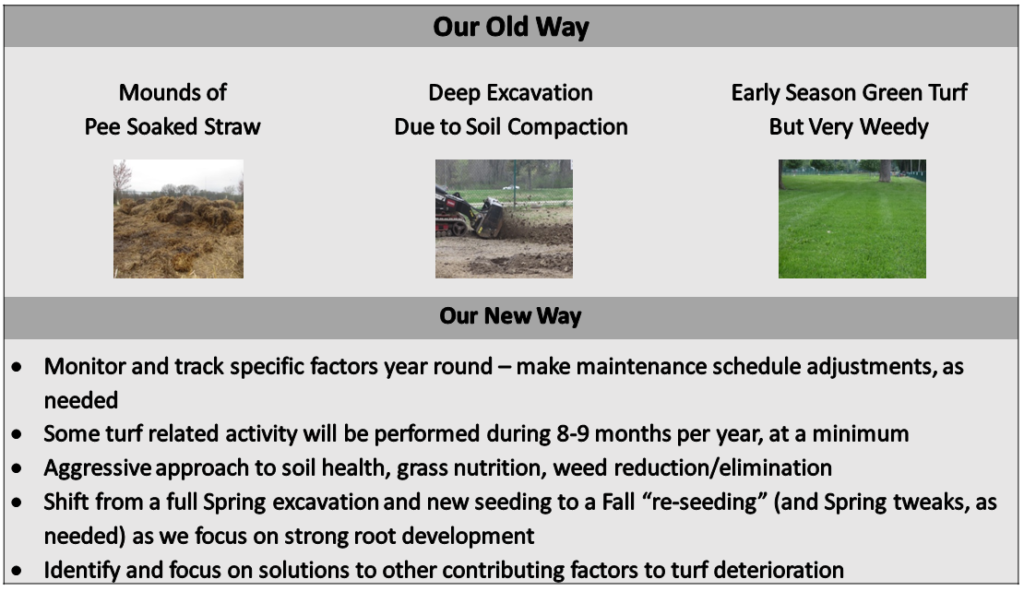 Making Our Turf "Thrive"
Our new approach includes upgrading our seed selection – a tall fescue assortment called "Gateway Blend". And, our commitment to ongoing soil amendments and turf aeration several times per year.
Post-Emergent Herbicide
LESCO Momentum Force Weed and Feed
Applied in May and then in September, while we are closed for renovation – granular, to be watered in with repetitive irrigation cycle
Fertilizer, Similar to Milorganite
Mears Fertilizer – THRIVE Branded, Natural Organic Fertilizer
Applied monthly between June and August – granular, to be watered in with repetitive irrigation cycle
Product same as Milorganite, different manufacturer
Pre-Emergent Herbicide
LESCO® Dimension™ Plus Fertilizer
Applied in mid March/mid April – dog park closed for 2 days – granular, to be watered in with repetitive irrigation cycle.
Getting into the Weeds . . .
The Great Debate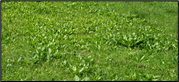 Yeah, we know. The weed debate has literally been raging among the members since 2006. Existing members, new members….the conversation goes round and round. Over the years, we have asked members for input. Two camps: Leave the weeds – Get rid of the weeds.
Over time, however, members grew tired of dealing with mud – so the interest in stronger turf grew, too. While the members had differing opinions on herbicide usage – the majority favored using it – eager to find a solution to better turf. But we did not move forward because we
always deferred to the minority who were opposed to herbicide usage. So, for 13+ years we have allowed the weeds to do whatever they pleased – and we know weeds love to take over and smother the new grass.
We think it time to try it the other way.
In the big picture, we will use both pre-emergent and post-emergent herbicides, as needed – with strong focus on the pre-emergent. Incorporating a weed control initiative will take time for full effect. And, even then, it's nature, it's a park – we may never be 100% weed free. Our goal is to slowly – and safely – eliminate most of the weeds and give the grass a decent chance to grow strong so that it will return each year, eventually, with only minor re-seeding required.
Because of the transition timing – our first pre-emergent application will have to wait until March 2021. The timing of the April 2020 seeding was too close to the time needed to effectively put down the herbicide in spring 2020. Soil must be warm enough and our underground irrigation system must be turned on for the season so the product can be watered in. We cannot turn on the system until we pass potential freeze temps on the calendar.
This means our first herbicide application will be a post-emergent. This will be applied during the renovation period, in May 2020, while the dog park is closed. Then, as we transition to Fall seeding, we may opt to use a post-emergent during that closed period as well, tbd.
Products and Safety Plan
SWCDP will always send a notice to alert members of the temporary closing for the pre-emergent application. Usage of any post-emergent will be during the turf renovation period, so the dog park will be closed. No herbicides will be stored at the dog park. Herbicides will be administered by our outside contractor so no SWCDP volunteer will be asked to handle it.
Eventually, our usage of a pre-emergent will be a key factor in weed control. Pre-emergents are designed to be watered into the soil. It does not rest on top of the soil or on the strands of grass. It works by dissolving into the soil. Pre-emergents fatally interrupt the growth process in some way to prevent the seed from getting all the way through the seed germination stage. So, ultimately, the weed does not emerge above the soil. It is usually applied once per year but in some situations, more than one application is required. Until we start using it – we will not know what our grounds will require.
The contractor recommends one day of watering before allowing the dogs back into the dog park. SWCDP has decided to double that time – so we will close for a two day period – and we will run our sprinkler system several times over 2 days before re-opening the dog park. If any member has concerns about the herbicide use – it is recommended that you refrain from coming to the dog park for an additional couple days, or however long you feel necessary. Remember, the targeted time frame for pre-emergent application (s) is between mid March and mid-April.
What turf deterioration factors have been identified?
Compacted soil, difficult to put down seed
Weeds, snuff out grass
Soil and grass, not getting nutrients
Canine pee and poop, negative impact
Some areas, not getting enough sun
Foot & paw traffic, concentrated in one area
Most action in center of Main playground, area gets no relief
Heavy straw usage, gets very nasty
We have tried and failed to keep the members moving instead of hanging out in one place. People enjoy congregating – and we are no longer going to try to change that. Instead, we propose new ways to address the inevitable.
***************************************************************************************************************************
Where We Are Headed
Eliminate Need for Deep Excavation
Seriously, we gotta stop doing this! Excavation is the largest single recurring turf cost, averaging around $2,250. We are forced to do it because the ground is so deeply compacted by the end of each season that we cannot plant seeds on it. But our largest single cost is also keeping us from having returning grass with mature root system. Crazy! We can redirect these funds in our new Turf Management Program so that we are working towards a more positive outcome. So…we are back to talking about aeration, weed control, soil health, grass nutrition. And, even more importantly – shifting some of the traffic load.
Shifting Traffic Flow is Key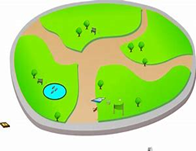 Support the inevitable foot and paw traffic
Our vision – albeit, a work-in-progress and still at the conceptual level – is to have a very large, multi-feature climbing maze with a wide non-grass perimeter around it – placed in center of Main playground – roughly where our temp maze has been. Eventually a large pavilion will be across from the maze and both connected with a wide path. Also, from the entry area through the gangway will be a non-grass surface and it will wrap around the fence into Main, creating both wide pathway and small patio area – to support our members who like to use Main but do not wish to go all the way into the Main play area. All benches and tables will be supported on non-grass surfaces. Finally, all the aforementioned will be connected with winding, wide pathways. So – we will nurture our grass and trees – and work hard to keep them — and — at the same time have a realistic approach to supporting the unavoidable heavy foot/paw traffic. And there will still be plenty of open grass areas for chasing balls, catching Frisbees, or rolling in the grass.
What do other dog parks do? Are dog parks really able to maintain a decent grass turf?
All struggle with turf issues. Like we have said many times – dog parks are in their own universe! From 2016-2018, SWCDP founded and managed a group of St Louis Metro Area Dog Park Managers which included many Municipal Parks Dept Managers as well as volunteers managing City parks. The group met 3-4 times per year, as needed, and a variety of dog park management issues were shared as we all looked for improvement opportunities. Turf management was a constant topic.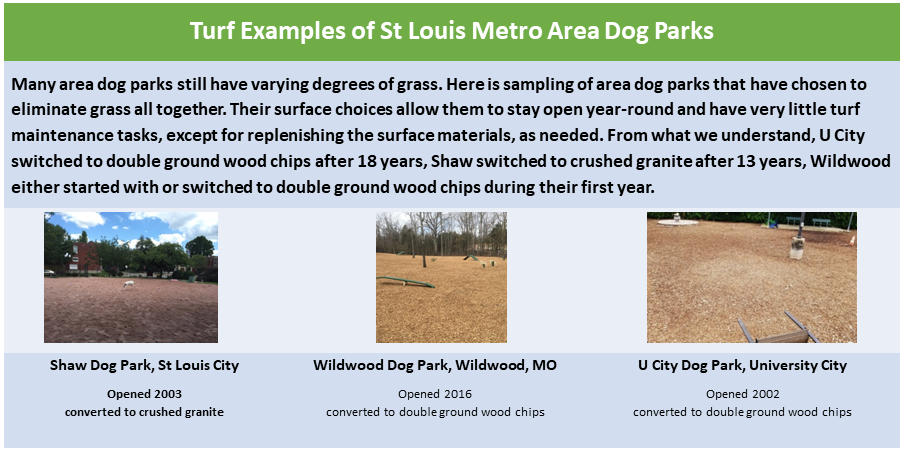 It should be noted, none of these are in the St Louis City Parks system. Surface options for SWCDP are currently limited, by City Ordinance 66595, to "stone, dust, or grass". Further discussion of turf options is on the agenda for the annual SWCDP-St Louis City Parks meeting. (Most years we meet each spring; new date tbd due to Covid-19, Park closings and more). You will hear more about surface options in future member communiqués.
Why does SWCDP think we can keep a naturally green dog park when other dog parks have struggled? What are reasonable expectations?
We just do not believe it has to be all or nothing. Under SWCDP current leadership team, we think it worth the effort to keep it green. And, we hope you are with us. We are working towards balancing improved turf care with installing alternative surfaces. We are looking at shifting the foot/paw load – using more durable surfaces in areas that are expected to endure the greatest traffic. By virtue of extra wide walkways and a designated permanent climbing maze area we will have more control over where a lot of that foot/paw traffic will be.
Example of Sidewalk in a Dog Park                        When All Factors Are Not Considered

You can see from this real life example, that if we only put in limited sidewalks – while it certainly would provide a place for human feet to walk – it does nothing to save the turf or keep the canines and humans from pounding and destroying the grass. SWCDP proposes that we consider how we actually use our dog park – where the greatest abuse is – and then work out a smart pathway solution to include play areas (e.g., climbing maze). This means a Master Plan.
We must also set the expectations realistically. Which is why we say "eyes wide open". We are not striving for a perfect lawn or golf course quality – there will be imperfections, set-backs, hot spots, unexpected situations. We know this is not like flipping on a light switch – it will take time, maybe 2-3 seasons before we see solid and sustainable results. Nothing can be done without approval from St Louis City Parks Department – and this might be lengthy and complicated – depending on how many people-departments-committees have to get involved. All the more reason to get started on developing our plan.
Our wants:
We want our dogs to be able to roll in the grass or simply enjoy resting on a soft, cool turf if they want to and continue to play as robustly as ever. We want our humans to enjoy being surrounded by nature – grass, trees, flowers and plants – while they relax and spend special time with their 4-Leggeds and other dog lovers. We want a wonderful space for our members to take a break from hectic lives – and hopefully our devices, too. Wouldn't you agree? 
Permanent Climbing Maze
4-Legged and 2-Legged members say "Bring it back"!
We miss it too. In fact, our own pups say "This blows! We want our maze!" We can already envision hundreds of 4-Leggeds with protest signs strapped to their backs running up and down the playground woofing "Where is our maze?" We get it.
Those heavy straw mazes, unfortunately, are in direct conflict with the improvements we are making. Any chance of grass returning in the spring is wiped out after months under the crush of the maze – not to mention the large amount of disgusting pee soaked straw. Frankly, the entire area is a hell-hole once all the nasty straw is hauled off. The temporary maze completely undermines what we are trying to do in developing a strong – season returning – turf.
So – a permanent maze is the solution. Not only is the maze a beloved amenity – a permanent structure will be key to protecting our new turf. We will still have an abundance of places to run, chase balls, catch Frisbees, and more. But think about how much time most of our dogs spend climbing up and down the maze, chasing each other through the tunnels, or simply lounging at the top. All that time translates to less turf pounding. A winner! And by virtue of having large surrounding area for the humans to stand or sit to watch – we will have successfully shifted a significant traffic load.
Project related fundraising may be a challenge this year, however . . .
Maze Fundraising Has Already Begun
$250
Secured by SWCDP Members
Mark & Tiffany Wohlstadter (Wayne)
Funds – Thrivent Financial Live Generously Program
$300
Secured by SWCDP Member
Mary Konnesky (Mellie)
Funds – United Healthcare
*Above funds held in SWCDP special category and will only be used for assigned designation, unless designation is changed by the donor
What is Contractor Protocol and What About Temporary Dog Park Closings?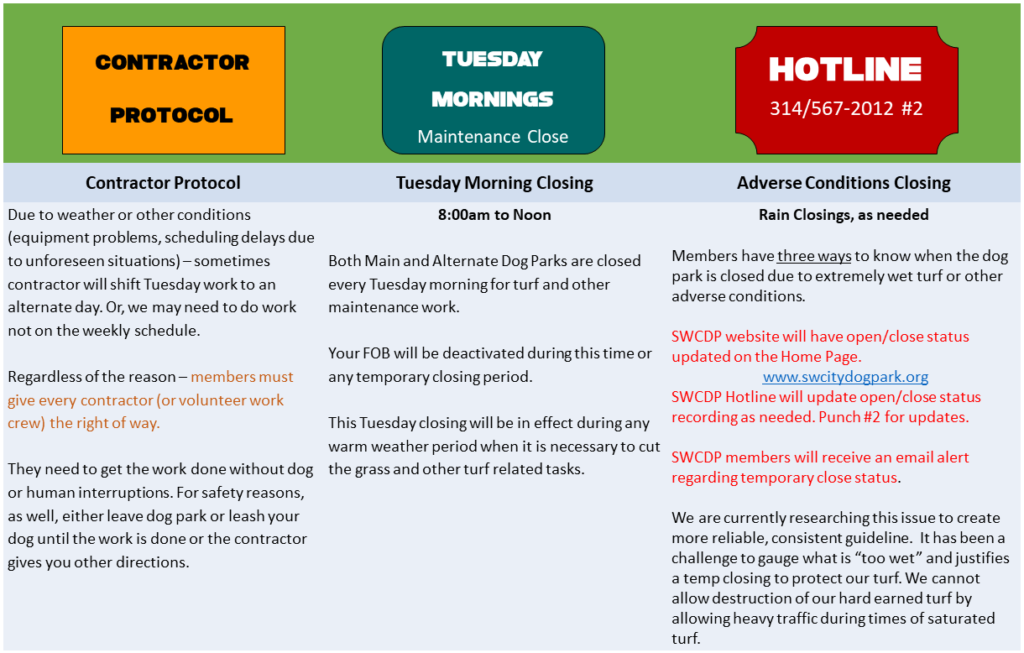 We hope this communiqué helped you see the vision for SWCDP future. As you can see, there is a lot to consider and a lot to research in order to put a reasonable plan together. We are on it. Much more info coming your way as the 2020-2021 season progresses.
See ya 'round the SWCDP playground. 
**************************************************************************************************************
This communiqué does not include cost factors.
As the Five Year Plan and general improvements are refined and we prioritize the projects – we will then begin costing things out for funding purposes. Our operational costs include the turf management expenses and these items will be included in our annual report at the GMM (General Membership Meeting).
Our GMM was scheduled for May19, 2020 but has been cancelled due to Covid-19. New date and GMM particulars are currently under consideration and will be announced soon, with tentative target between late May and mid June.